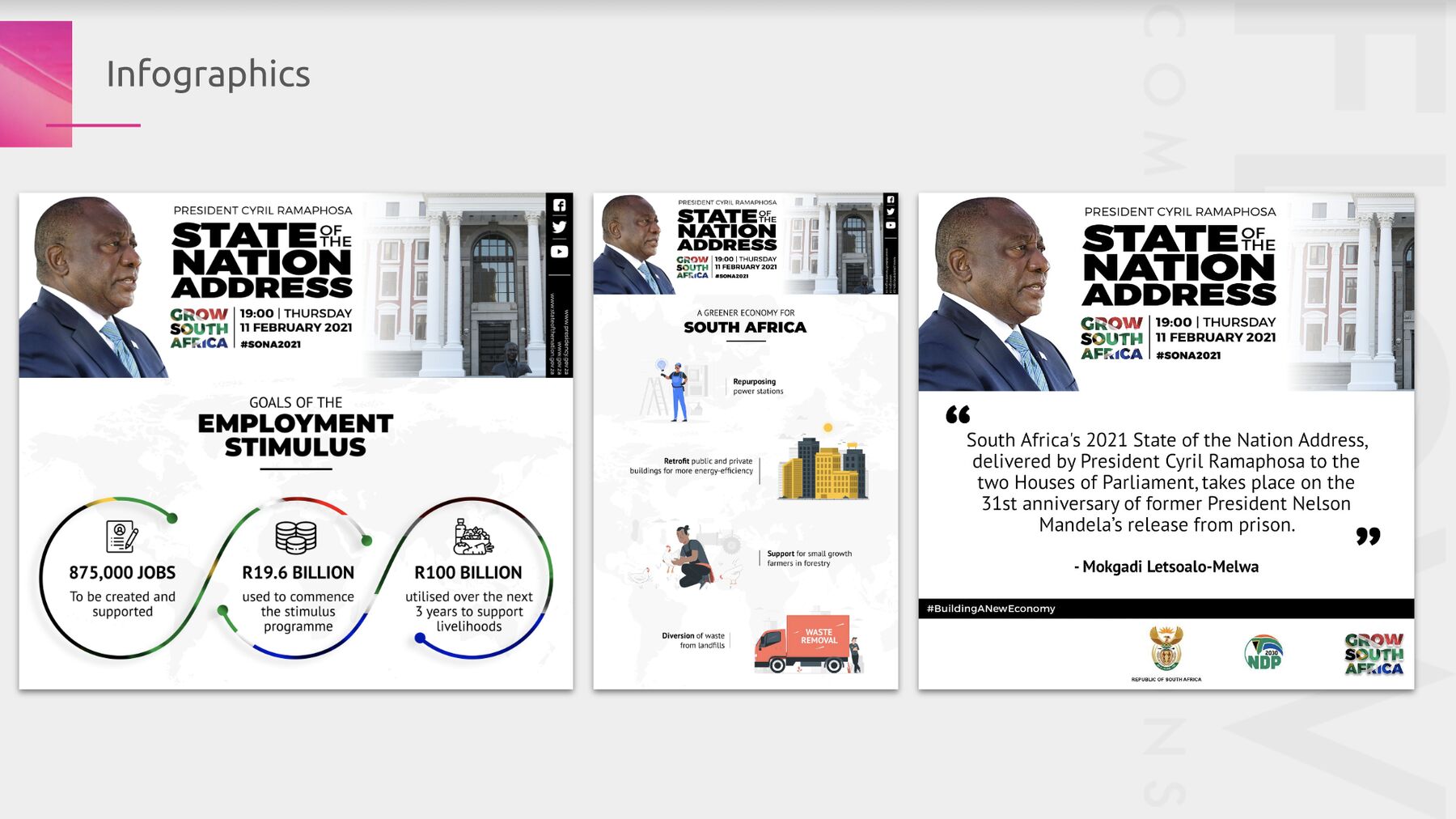 Social media for business is not just about growing followers – it should be used to facilitate engagement, drive conversion, gather user-generated content and amplify third-party endorsements.
The social media landscape is exciting and fast-changing – there's a new social networking site, a new online game or a new way to interact with your clients via SMS, mobile competition or online forums nearly every week ...
At Flow we develop social media strategies and roll out plans for our clients that are current and relevant. We believe in getting the basics right for our clients, so that they're perfectly poised to make the most of new opportunities when these present themselves on the web.
In partnership with our clients, we develop an e-marketing strategy and social networking approach that is innovative but solid, and that will grow their digital portfolios in a sustainable manner, enhancing the organisation's brand, sales and customer relations in the long term.

We can assist you with your social media, from helping you to learn how best to use Twitter or Instagram (or any other popular network), to preparing hands-on social media training for your staff, to developing and managing influencer and social media campaigns.
Some of our notable successes in social media include:
Running South Africa's most successful Twitter campaign, #iam4rhinos, for the World Wildlife Fund in 2013. The campaign attracted more than 160 000 tweets from thousands of people, including celebrities like Stephen Fry, Ricky Gervais and Junior Bachchan. It trended on Twitter nationally for a week, and at number one in the world on World Rhino Day

Growing South African Tourism's Twitter account, @GoToSouthAfrica, from 12 000 followers to 100 000 followers in three years, with no paid advertising

Running South African Airways' social media accounts across the world, in a number of different languages, including Mandarin and Swahili

Achieving over 8-million views of more than 37 000 photos uploaded to the @flowcomm Flickr account

Winning a Gold Cannes and a Gold Loerie for our work with Ogilvy Cape Town on the "Take Your Facebook Profile to Cape Town" campaign in 2013, for Cape Town Tourism
Winning the following awards for social media at the New Generation Social & Digital Media Awards, including:
Best Low-Budget Campaign for Marine Protected Areas: MPA Day (Bronze – 2022)

Best Social Media Reach from an Event, for the South African Presidency, the 2021 State of the Nation Address (Silver – 2021)

Best Social Media Reach from an Event, for the Desmond Tutu International Peace Lecture (Bronze – 2021)

Most Viral Campaign by an Agency, for Heartlines (Silver – 2020)

Best Use of Social Media to Research and Evaluate for the Road Accident Fund – #AlwaysRemember campaign (Bronze – 2019)

Best Individual Influencer Marketer of 2019: Flow CEO Tara Turkington (Gold)

Most Viral Campaign by an Agency, for the South African National Blood Service – #NewBlood (Silver – 2018)

Most Innovative Use of Social Media: Mango Airlines (Silver – 2017)

Outstanding Social Customer Care: Mango Airlines (Silver – 2017)

Best Use of Social Media to Research and Evaluate: South African Society of Anaesthesiologists (Silver – 2017)

Best Agency Community Engagement Manager: Melanie-Ann Feris (Bronze – 2017)