Part of the mandate of the Department of Sport, Arts and Culture (DSAC) is to preserve, develop, protect and promote South Africa's cultural, heritage and linguistic diversity and legacy.
Between 2019 and 2021, Flow Communications was given the task of producing six books (two a year) for the department, featuring "living human treasures", people who are essentially the custodians of the indigenous knowledge, expressions, customs, traditions and skills that South Africans regard as part of their heritage. This formed part of the department's Living Human Treasures project.
Case study: design
The DSAC had embarked on a project to identify and document South Africa's living human treasures as part of its implementation of the national policy on South Africa's Living Heritage. The policy aims to:
Empower communities and individuals in safeguarding their heritage

Recognise the role played by various stakeholders (including communities and civil society organisations) towards living heritage

Provide the scope for the government to facilitate and monitor the identification and safeguarding of living heritage
Flow produced each book from start to finish – from conducting research and setting up interviews with the identified legends, their families, friends and professionals who have worked closely with them over the years to writing, photography, editing, design and printing. The end result was six books in total – two per financial year between 2019 and 2021.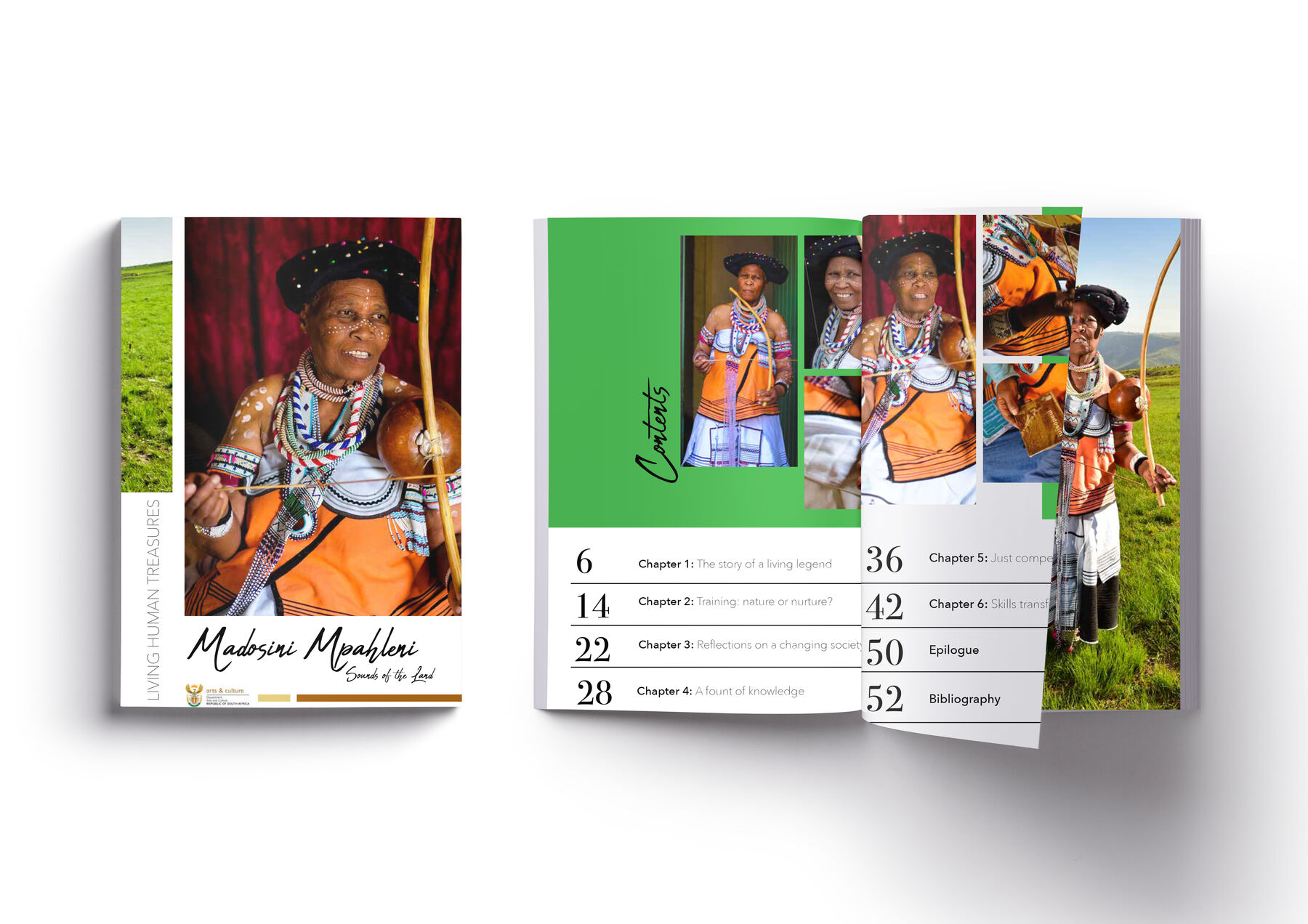 Each book project was broken up into three phases:
Phase 1: writing and photography
Phase 2: concept, design and layout
Phase 3: print production and management
Objectives/targets
The objective with each book was to conduct research and paint a comprehensive picture of the specific living human treasure's life story, work and achievements, showing their significance in South Africa's cultural heritage.
Each author was tasked with writing six scholarly chapters of between 1 200 and 1 500 words per chapter on themes relating to the specific living human treasure's biographical information; arts and training; comments and societal issues; knowledge production; market access, financial incentives and other societal support; and intergenerational transfer of knowledge.
The design needed to be inviting and to find the right balance between being colourful and creative, and serious and professional.
Strategy
Flow built its strategy on three key imperatives:
Recognising the importance of recording the stories of the lives of these amazing living human treasures, the obstacles they have overcome and their commitment to their art

Adding richness to the work by knowing their background stories

Celebrating South African art and culture in a way that is significant and ensures that the books make the content easy to engage with

Designing books that would be beautiful enough to be keepsakes for the future, and that would do the artists full justice
Execution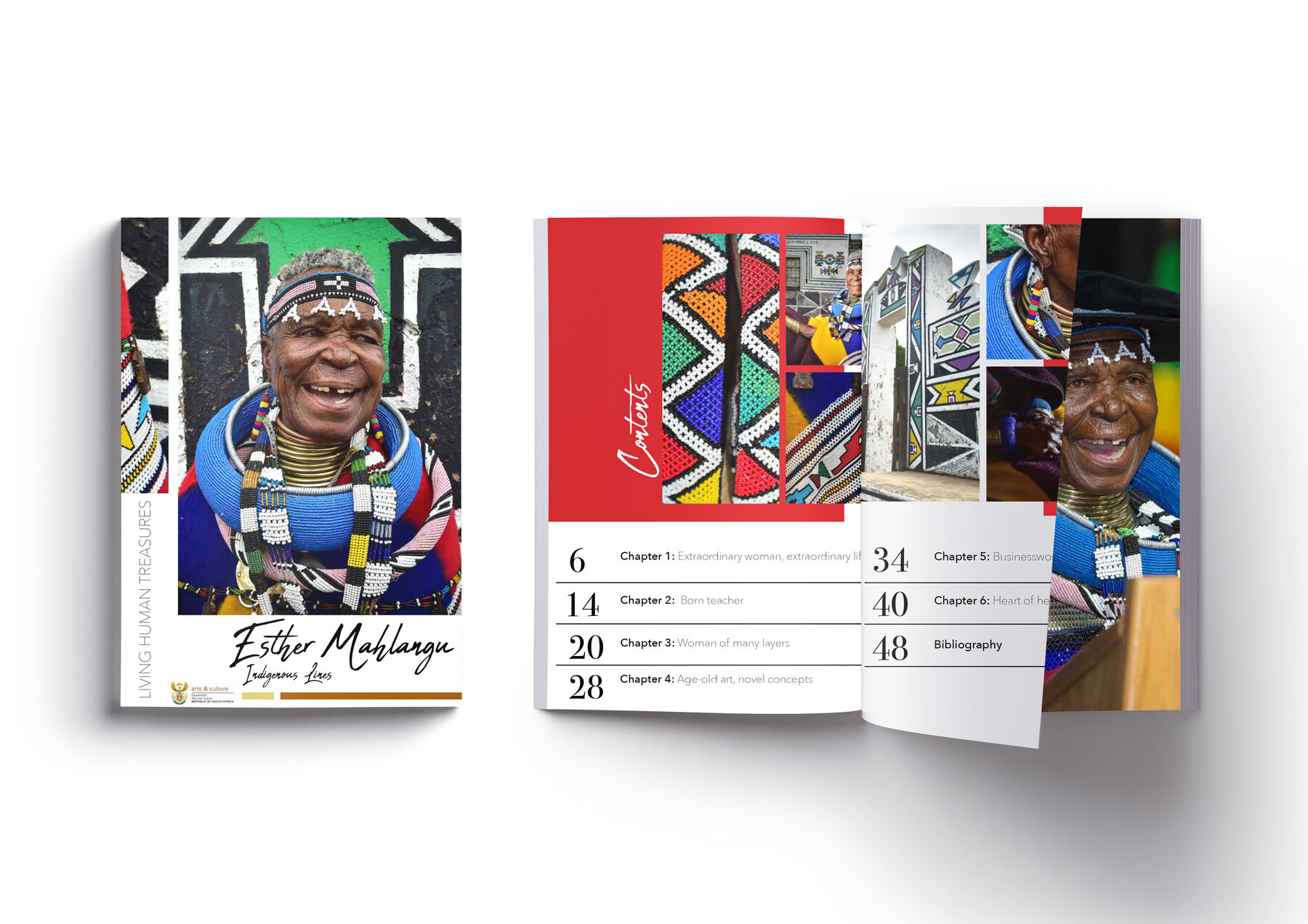 In 2018/19, Flow Communications produced two books that featured artists Esther Mahlangu, of Mpumalanga, and Noria Mabasa, of Limpopo.
In 2019/20, Flow produced a further two books, featuring Ouma Katrina Esau, who lives in Upington, Northern Cape, and Madosini Mpahleni, who lives in Langa, Cape Town, and still has an ancestral home in the Eastern Cape.
In 2020/21, Flow produced yet another set of two books, featuring artists Mgwaqo Enoch Mabika from Jozini, KwaZulu-Natal, and Beauty Mngxongo, who lives in KwaHlabisa, also in KwaZulu-Natal.
This work was carried out by teams of excellent and experienced Flow designers, writers, editors and photographers. Flow staff travelled to the various provinces and locations to do in-person interviews with the selected artists in the comfort of their homes.
Other elements that needed to be successfully executed to complete each book project included:
Ensuring beautiful, compelling design that showcased the artists professionally and appropriately, as well as quality typesetting and layout

Interviews with the living human treasures' families and friends, as well as with experts to help interpret their art and its impact; other background research

Appointing language interpreters to assist during interviews

Obtaining photos and any other relevant material from the subjects of the books; photoshoots with the artists, their families, their environment and anything pertaining to their work

Editing and proofreading all copy

Liaising with the DSAC to obtain the correct formats and colours for the designs

Including forewords and messages by political principals (Nathi Mthethwa, Minister of Sports, Arts and Culture), and acknowledging all sources consulted for information used in the books

Ensuring that the A5-format books were produced using Arial font size 11 and 1.5 line spacing, and perfectly bound
Results
The project was a phenomenal success. Flow successfully produced six different 64-page hardcover A5 books for the DSAC, each printed in full colour throughout. Each book highlighting a different living human treasure had a print run of 500, so a total of 3 000 books were printed.