Elegant Fuel is a proudly South African fuel company that is committed to growing the local economy and uplifting communities and individuals in the areas in which it operates.
Flow Communications proposed a campaign to position Elegant Fuel as innovative, inclusive and creative, by launching the brand on popular social media channel TikTok. This would be done in two ways:
Launch an Elegant Fuel TikTok channel and populate it with video content

Promote a competition for South Africans, encouraging them to create unique video content when visiting an Elegant Fuel station – with fuel vouchers up for grabs for four winners over the four-week competition
The brief
Flow was tasked with the technical creation and running of the new TikTok channel, as well as the social media content strategy and creation for TikTok, and for Elegant Fuel's existing channels, Facebook and Twitter.
The campaign saw video content being created by a team of four influencers and used to populate Facebook, Twitter and TikTok. We also called on customers and South Africans in general to then make their own videos and share them across the platforms.
Flow managed the agreements with influencers, meeting with them weekly to gain their insights. In addition, Flow shared the winners' video content and handled the administration behind the scenes to ensure that each winner had a unique voucher and knew how to redeem their prize.
On the social media side of things, we used the existing and new channels to promote the competition as far and wide as possible, with the help of some strategic paid spend. Flow's ongoing communication with various station owners as well as with the client ensured that Elegant Fuel was kept informed throughout. We prepared a detailed report at the end of the campaign to showcase the results.
Objectives/targets
The objectives were carefully thought out and provided an outline for all aspects of the campaign that followed.
The campaign objectives were:
Create a bank of fresh video content, generated by users, for Elegant Fuel's social media

Create brand awareness and continue to position Elegant Fuel as a brand that empowers and celebrates South Africans

Drive sales at Elegant Fuel stations by encouraging people to visit them

Establish a TikTok profile and grow it aggressively, immediately
The objectives led to tangible targets, such as achieving 500 000 video views and reaching one million people across all platforms.
Strategy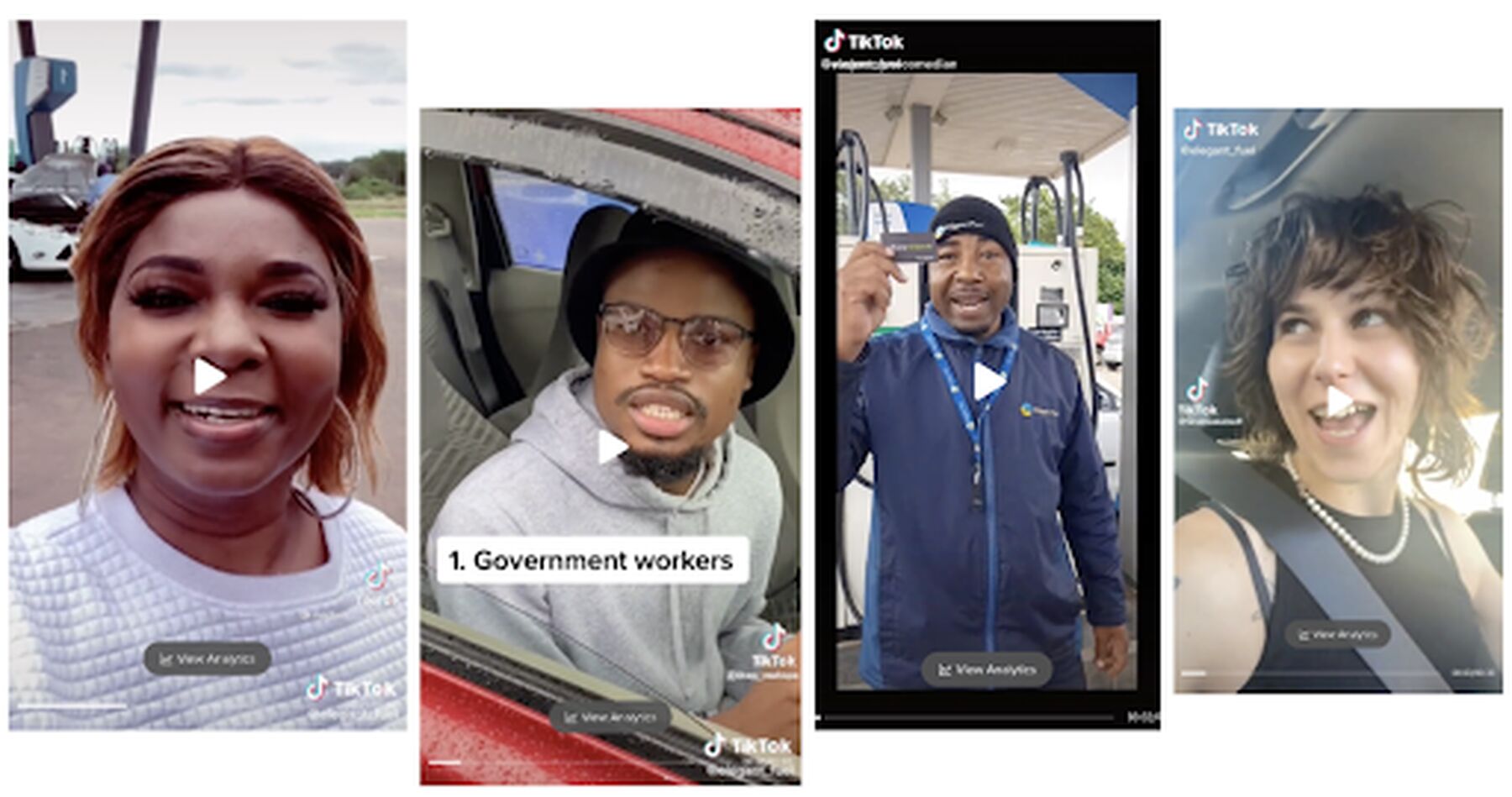 Using TikTok gave Elegant Fuel access to future motorists, young people who visit the fuel stations on foot or in other forms of transport, as well as the younger, hipper drivers of today. We aimed to reach existing customers, the general public and the previously untapped TikTok audience.
Above all, Elegant Fuel wanted to be one of the first local entities in its sector to have a successful and active TikTok account that celebrates its South Africanness and rewards its users. Research showed us that industry competitors do have channels on TikTok, but aren't very active or successful on them.
We also know that video content performs very well across almost all social media platforms and wanted to encourage the generation of unique video content, filmed at different Elegant Fuel stations around the country.
Engaging the influencers throughout the campaign was a big strategic focus, as their loyal audiences picked up on the competition and helped it reach more and more people.
Execution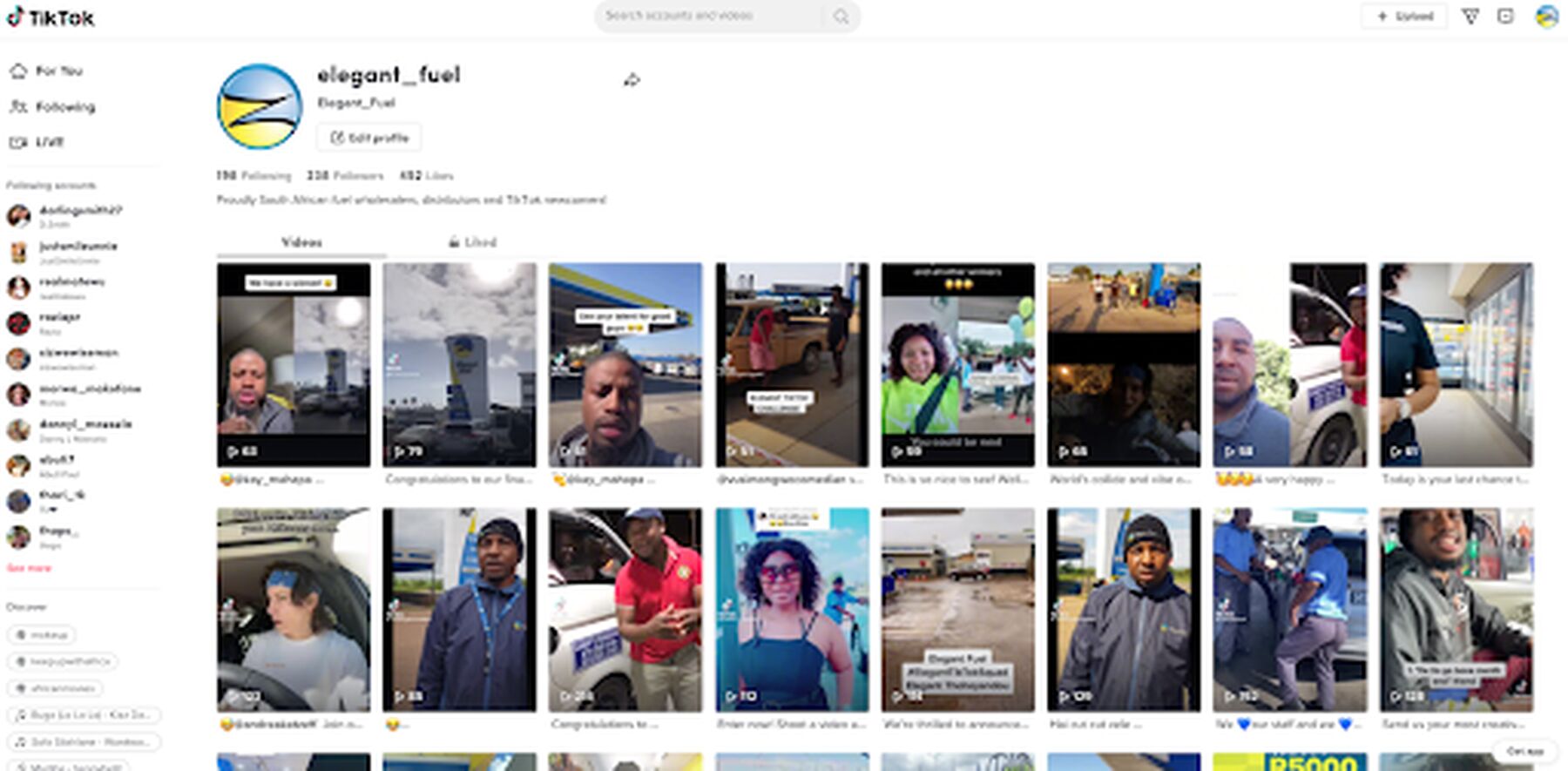 The campaign ran from 12 April to 13 May 2022. A few days before the start of the competition, teaser posts were shared on the client's social media platforms (similar to those we use to announce the opening of new stations): "Elegant Fuel is breaking new ground on TikTok!"
Elegant Fuel customers were introduced to TikTok through a series of explanatory posts and encouraged to start creating short videos that would be posted to Elegant Fuel's TikTok profile.
Content was also boosted via paid advertising on Facebook to ensure the messaging reached as wide an audience as possible.
In the first week, video content created by the team of four influencers was used to populate Facebook, Twitter and TikTok. We called on customers and South Africans in general to then make their own videos and share them across the platforms.
The influencers posted videos each week of the four-week campaign. They each tapped into their own unique personal brand – brand and content their followers are familiar with. These videos were shared on their personal profiles and on the Elegant Fuel home page, with the hashtag #ElegantFuelTikTokSquad.
Competition winners posted further videos of themselves filling up, increasing the number of videos received for the competition.
Results
The results of the #ElegantTikTokSquad campaign were impressive, with the posted videos collectively generating 3.8-million views and reaching 6.8-million people – far exceeding the targets set.
Most significantly, we successfully launched a completely new TikTok channel for our client – ensuring that Elegant Fuel staked its claim in an emphatic fashion as a pioneer in its sector.