Air Côte d'Ivoire's Johannesburg-Abidjan route, launched in June 2022, is the fastest route between South Africa and Côte d'Ivoire. The airline is offering four flights per week between Johannesburg and Abidjan (via Kinshasa in the Democratic Republic of Congo (DRC).
Air Côte d'Ivoire's vision is to be the leading airline in West and Central Africa, and the new route offers ease of access to 16 countries in those two regions: Côte d'Ivoire, Congo (Brazzaville), Gabon, Nigeria, Ghana, Mali, Guinea, Burkina Faso, Niger, Liberia, Benin, Senegal, Cameroon, Togo, the DRC and Guinea-Bissau.
This route increases opportunities for Africa-to-Africa business and bolsters business relations between South Africa and Côte d'Ivoire.
The timing of the launch connected well with renewed diplomatic relations between Côte d'Ivoire and South Africa. South African President Cyril Ramaphosa visited Côte d'Ivoire in December 2021 and nine bilateral agreements were signed, one of them an air transportation agreement. Ivorian President Alassane Ouattara visited South Africa in July 2022 and Ramaphosa signed an additional six agreements to strengthen relations between the countries. He also bestowed the Order of South Africa (Gold) on Ouattara, in appreciation of the Ivorian leader's contributions to rekindle friendship between the two countries.

The brief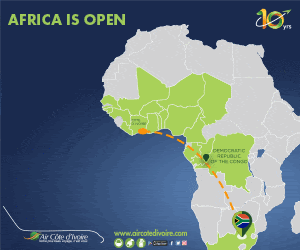 The launch of Air Côte d'Ivoire's first route to Johannesburg is part of its growth strategy. The airline approached Flow Communications to promote the new route because of our experience in the South African travel and business industries, and our knowledge of the local landscape.
The brief was to launch the route in South Africa with a clear and strong message that would attract travellers to book flights on the route. Suggested communications and marketing channels included social media, media relations and digital advertising.

Communications objectives
Raise public awareness of the route among South African market segments

Attract the relevant market segments to book flights (via agents and directly)

Raise awareness in the media about the airline industry's new entrant to the South African market

Build brand equity and loyalty
Target audiences
Business travellers

Students

West African diaspora

Families

Government officials

Private organisations
Strategy
Flow managed the South African communications around the route and its launch through a multipronged campaign that included influencer marketing, social media, digital advertising, video production and public relations (PR). The overarching message was the positive change that this route brings to Africa, executed through an influencer campaign, the publication of success stories and a targeted PR approach.
Influencer marketing is a powerful aspect of word-of-mouth sales. It always has been – for tens of thousands of years people have gathered information from their peers, and from respected social leaders. Influencer marketing has two chief benefits: it evokes a gut reaction in an audience that simply cannot be reduced to statistics, and it produces compelling statistics – influencers have large audiences and can disseminate your message to that audience, with gravitas.
Key messages
In June 2022, Air Côte d'Ivoire launched the fastest route between South Africa and Côte d'Ivoire offered by any airline

There are four flights per week between Johannesburg, South Africa, and Abidjan, Côte d'Ivoire, via Kinshasa in the Democratic Republic of Congo

The new route offers ease of access to 16 West and Central African countries

The new route opens up opportunities for business in Africa

The new route opens up opportunities for tourism in Africa
Execution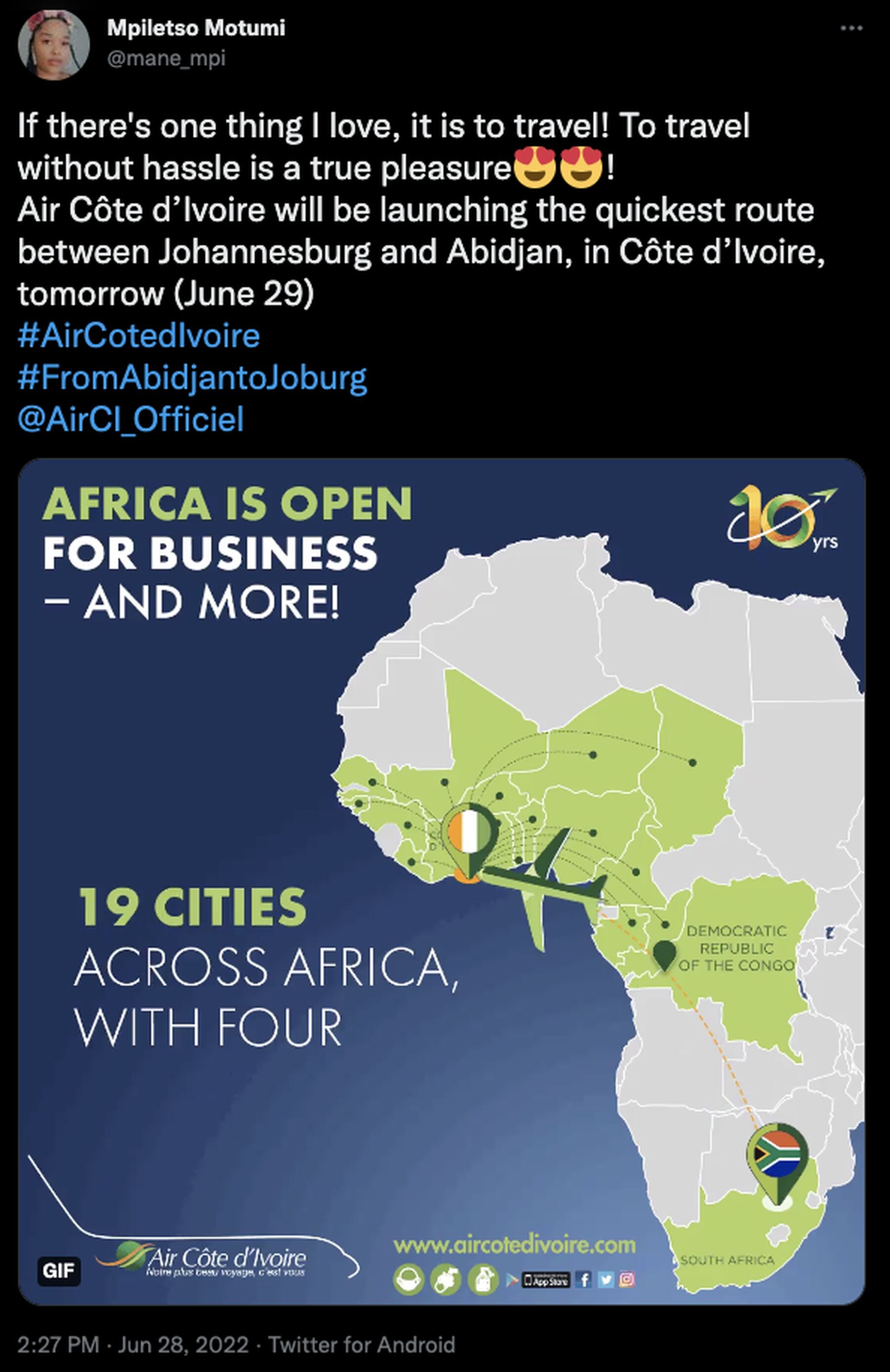 Flow identified three high-profile travel influencers to share news via their social media platforms about the launch of the new Air Côte d'Ivoire route. They were chosen for their social standing, their consistently positive messages about South Africa and Africa, and their enthusiasm for travel. They were:
Ulrich Janse van Vuuren, South African humanitarian, environmentalist and campaigner
Mpiletso Motumi, who styles herself as "writer, traveller, friend"
Maps Maponyane, television presenter, actor and entrepreneur
The influencers attended a launch event at Air Côte d'Ivoire's South African office in Parkwood, Johannesburg, on 1 July 2022.
Other media
Flow ran a Google Ads campaign to promote the launch of the new route, which included display and search advertisements for the full period

Flow identified Daily Maverick as a key platform for digital advertising as it has a prominent business following plus a business newsletter in which we could advertise. At the time of the banner advertisement campaign, Daily Maverick had more than 17 500 "members" (as the newspaper doesn't charge for reading, they are not strictly subscribers)

Together with Air Côte d'Ivoire, Flow identified two Ivorian business people whose success stories could showcase business relationships between the countries, along with key messaging about how Air Côte d'Ivoire's new route can be a catalyst for improved relations. The videos were uploaded to Air Côte d'Ivoire's YouTube channel and also distributed to the media in profile pieces about the two businesspeople. Media releases profiling the two were also researched, written and released

The Air Côte d'Ivoire agency in Parkwood, Johannesburg, was officially opened on 1 July 2022 at a high-level ribbon-cutting ceremony. Flow assisted in arranging the event for 120 guests

Flow researched, wrote and distributed a further two media releases, one to announce the launch of the new route and one about the opening of Air Côte d'Ivoire's agency in South Africa
Results