Work like this is a rare privilege: celebrating the long life of one of the few true global icons, someone who is teaching the world the real power of love.
Yes, that's right, we're talking about Archbishop Emeritus Desmond Tutu, who turned 90 on 7 October 2021.
The Desmond & Leah Tutu Legacy Foundation asked Flow Communications to come up with a 90-day social media campaign to celebrate the Archbishop's long and fascinating life, in the lead-up to this milestone birthday and the 11th Desmond Tutu International Peace Lecture, which took place on the Nobel Peace Prize laureate's birthday.
Working in collaboration with the foundation, we came up with a campaign, #90GiftsForOurTutu, that delved into the many roles he has played throughout his life, even beyond his retirement from public life in 2010 – priest, anti-apartheid activist, father to four children, chairman of the Truth and Reconciliation Commission, husband, ethical leader and more. We learned a lot from and about this Nobel Peace Prize winner, and we were – and remain – truly inspired.
The campaign comprised daily posts on the foundation's three social media platforms – Facebook, Twitter and Instagram – each of which was carefully researched and crafted.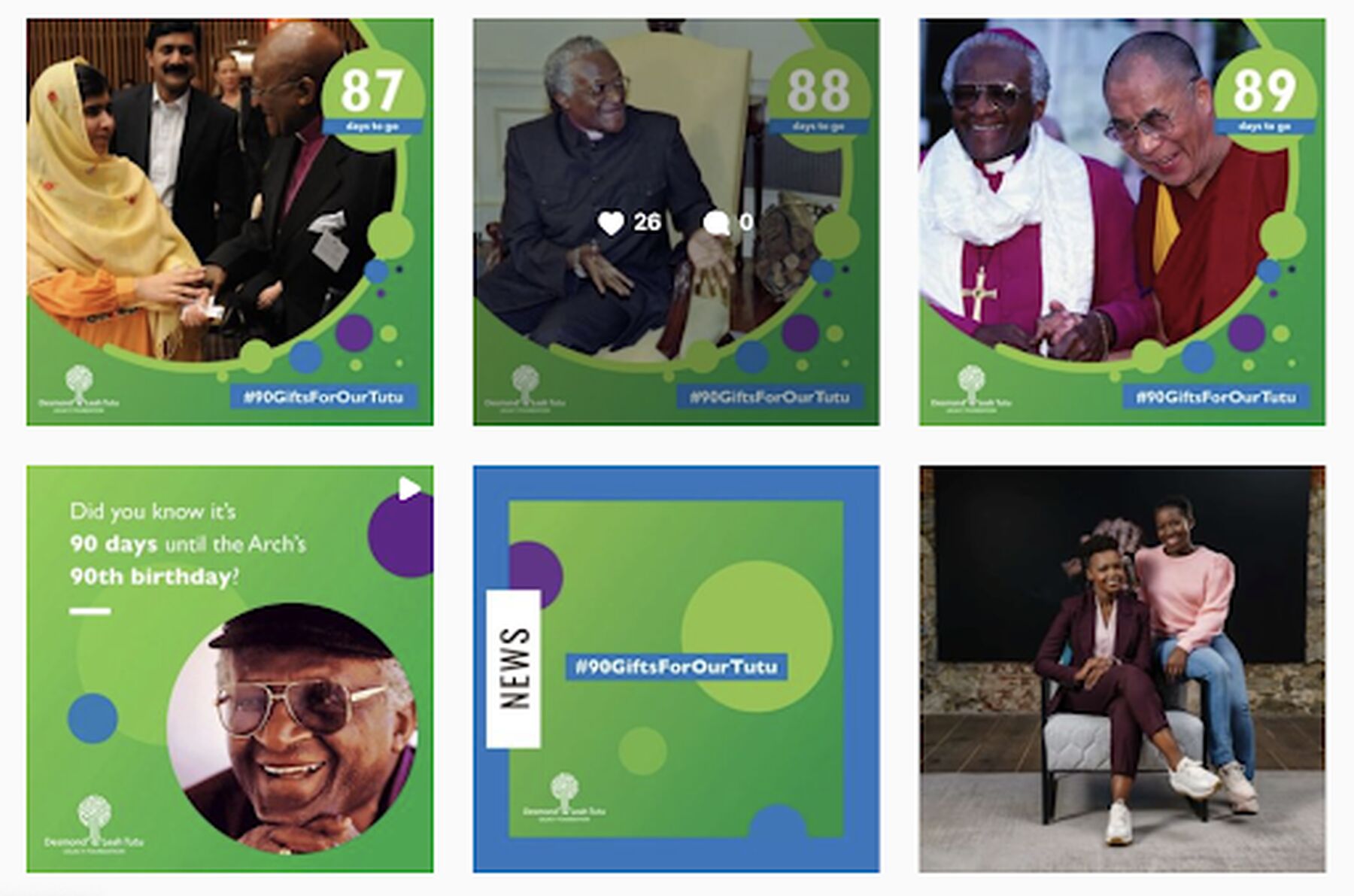 Flow's design office crafted a separate look and feel for this particular campaign, which ran alongside others and featured a countdown on each post. A Flow designer came up with a design template that our social media and content teams could easily update every day. This boosted efficiency in what was a long campaign.
Some of the posts Flow crafted were light-hearted, celebrating the Archbishop's effusive joy; some were sombre, reflecting the many hardships suffered by people all over the world, which he has spent a lifetime highlighting and protesting against.
Our campaign reached more than 2.9-million people and had over 13.8-million impressions online.
Our research also taught us a lot about the other founder of the Desmond & Leah Tutu Legacy Foundation – the Archbishop's wife, Leah Tutu – and all the good she has done for South Africa and human rights in her own right.
We're so grateful to have helped showcase the Tutus' legacy, and for the privilege of being able to use our skills to pay tribute to a true hero.