Over and over we have heard that something must be done to curb climate change, so it was wonderful to see the many ways in which South Africans are doing just that at last week's Climate 360 virtual conference.
The interactive event, hosted by the European Union (EU) Delegation to South Africa, in partnership with the embassies of Denmark, Finland, Flanders, France, Germany, Netherlands, Poland, Portugal and Sweden, highlighted and rewarded diverse, sustainable solutions through a high-profile competition. It also presented powerful speakers.
Flow was on hand from beginning to end to help the EU delegation deliver a successful conference. We helped with event planning and execution on 18 and 19 November 2021, and provided social media and public relations support in the run-up to the event, and during it. Flow is also preparing a post-conference report for the event website, which we created.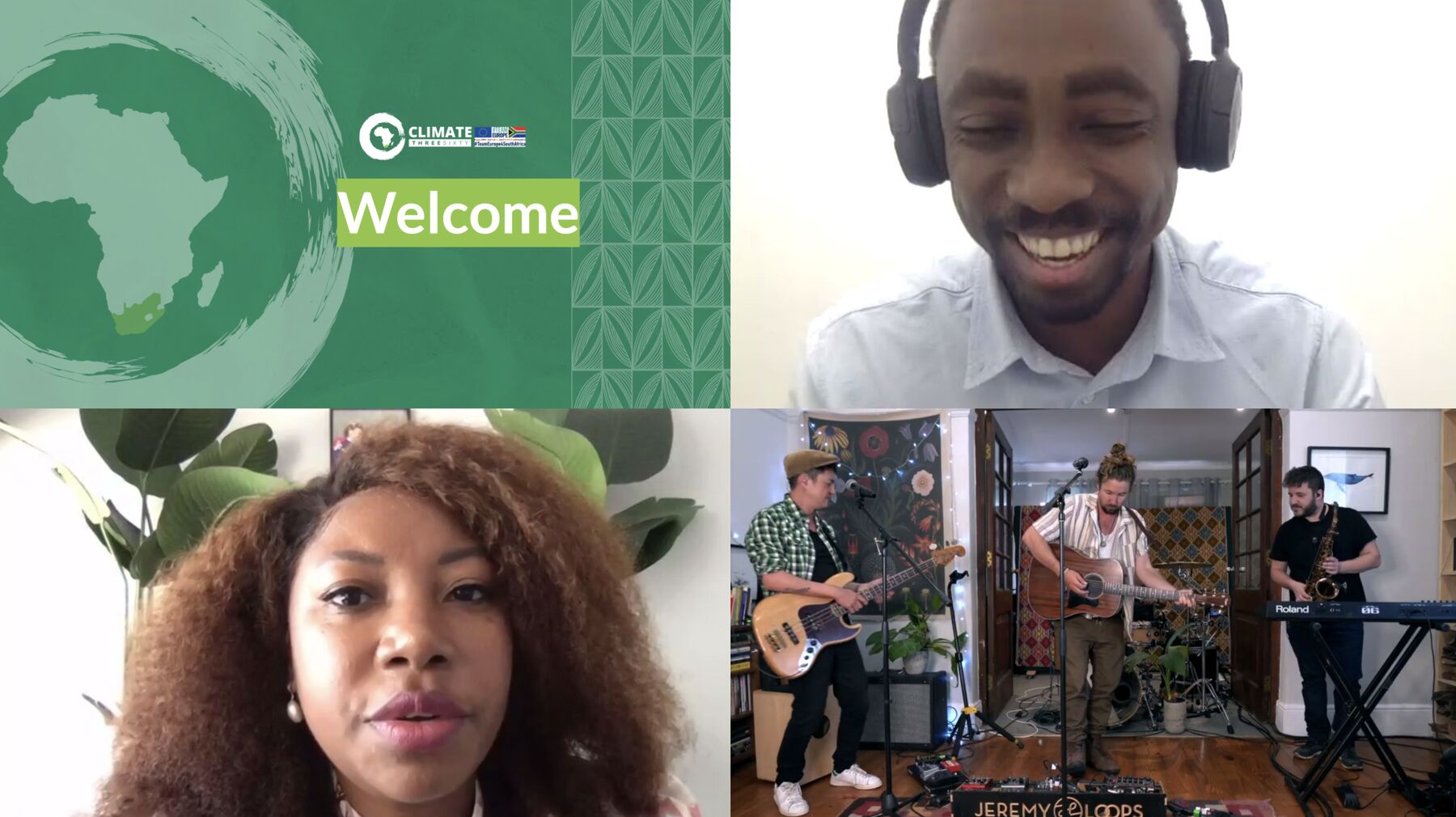 An uplifting competition
The Climate 360 competition saw contestants showcase projects and programmes aimed at ensuring that South Africa and South Africans deal as best they can with the climate changes that are coming, and those already with us.
The winners were chosen from 15 deserving finalists (whittled down from 100 entries), who were invited to showcase their innovations during the conference, competing in five categories: just transition; biodiversity; sustainable energy; pathways to a circular economy; and climate change adaptation.
The competition was driven through a simple entry mechanic on the climate360.co.za website and promoted widely on social media and via the Daily Maverick newspaper.
Social media success
Flow used social media to drum up interest in the conference and drive registrations.
We tracked the event-specific hashtag, #Climate360SA, across Facebook, Twitter, Instagram, news sites, blogs and online forums. These are the results from 1 to 21 November 2021:
Mentions – the hashtag was mentioned 2 228 times

Reach – more than 4.2-million people were reached with the content and messaging

Impressions – the content was visible online over 84.1-million times
These figures are significant because reach and impressions increase brand awareness and promote credibility.
Flow also identified a number of influencers in the travel space and used their assistance to facilitate a Twitter chat on 10 November 2021 in the build-up to the Climate 360 event. Such online chats really help to build audience engagement and get people thinking about your chosen topic, before a main event.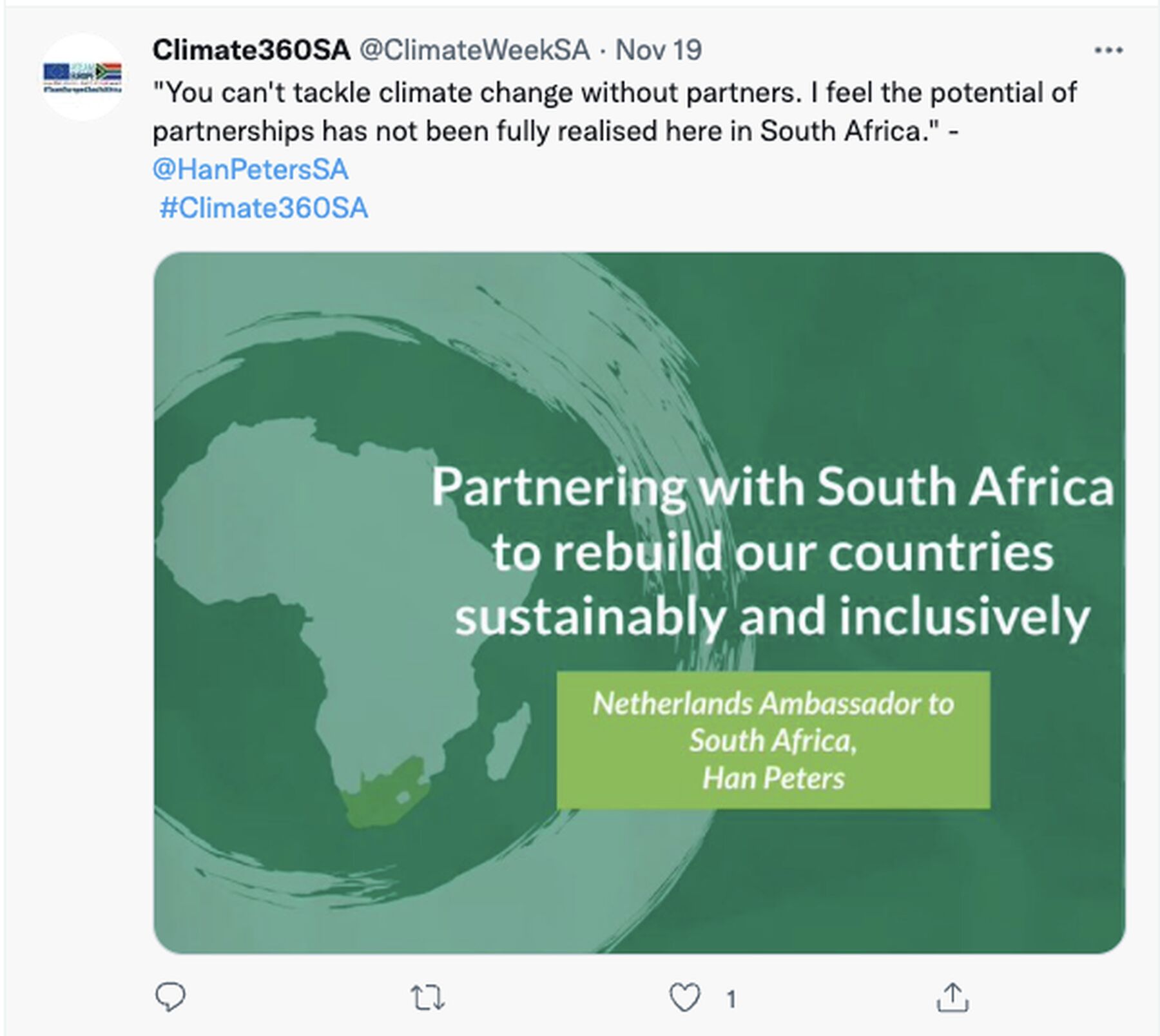 Website results
Flow also created a website for Climate 360. Between its launch on 1 October 2021 and 22 November 2021, it was visited by 7 500 users, who engaged in 9 189 user sessions. More than half of the sessions (55%) were driven by advertising.
A green event
Climate 360 was a large event attended by many ambassadors and influential speakers and participants, and Flow was right behind the EU delegation and its partners to make sure that the two-day programme ran smoothly.
Our events team ensured there was online support for the two masters of ceremony, speakers and competition finalists. Extra material was prepared so that there were no uncomfortable silences, and we used the interactive Mentimeter platform to prepare and present fun quizzes. The event was presented via Zoom and participants needed to register beforehand.
Registrations were driven via the social media campaign, the campaign website and the Daily Maverick.