A team of Flowstars put their bright pink hearts and minds to a very green message recently: how to ensure a climate-friendly recovery from the Covid-19 pandemic.
From 15 to 23 September 2020, we worked with our client the German Agency for International Cooperation (GIZ) and the European Union (EU) on the Team Europe Climate Diplomacy Week in South Africa. Team Europe is the name the EU has given to its response to the Covid-19 pandemic, a package of nearly €36-billion set aside for supporting partner countries, like South Africa, in the fight against the coronavirus pandemic and its consequences.
We did this with social media, a special webinar app and public relations.
Climate Diplomacy Week comprised a series of webinars looking at different ways in which the EU and South Africa can collaborate to ensure a green recovery from the pandemic. Speakers at the six-day event talked of how the world should grasp the opportunity that lies in how the coronavirus pandemic has devastated economies across the world to "build back better".
Social cause, social media
A few days ahead of Climate Diplomacy Week's 15 September start we launched the @ClimateWeekSA Twitter handle. It was used as the primary media tool to promote the conference, and to tweet the conference proceedings live.
During the conference, many EU member state accounts, ambassadors from EU member states and some very powerful conference speakers interacted with @ClimateWeekSA.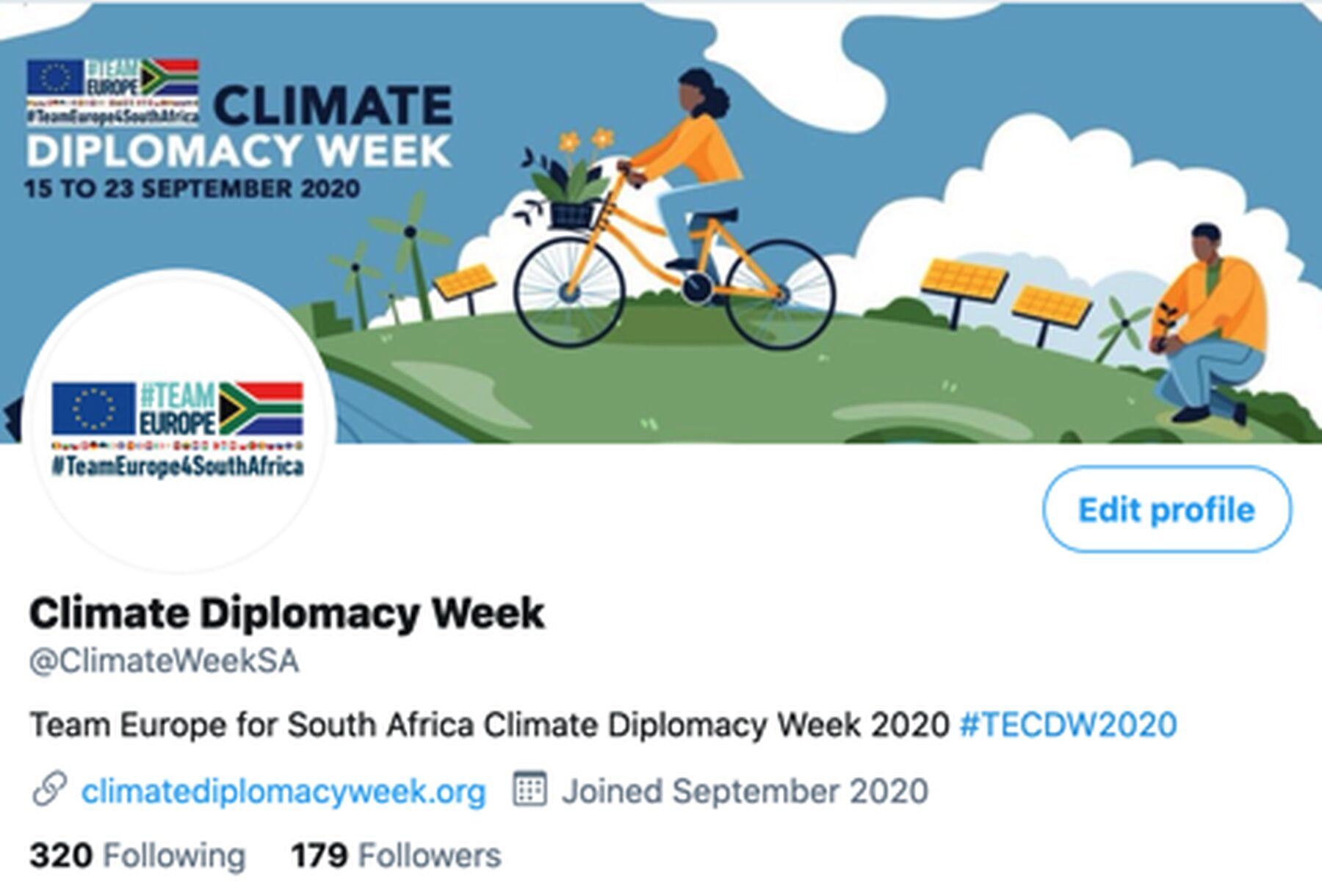 Over the course of the conference we reached 949 230 individual Twitter accounts and recorded 5 896 042 impressions through social media. More than 230 (233) different Twitter accounts posted 1 893 tweets about the conference, and 4 704 engagements were recorded across these posts (engagements include intentional user interactions such as a like, comment or retweet).
Our social media service included design work for the Twitter handle and for a specially designed interactive webinar application that we have begun to use to host conferences online.
An immersive digital experience
Our newly developed immersive webinar experience portal (digital application), which had its first outing at this year's Nelson Mandela Annual Lecture in July, hosted ambassadors from several European countries, including EU ambassador to South Africa Riina Kionka, and a long list of other VIPs. These included several South African government representatives, business leaders from Europe and South Africa, and a number of young climate activists.
We worked with the EU to ensure that those who attended the week of presentations and discussions on how Europe and South Africa can collaborate to ensure a "just and green recovery" from the Covid-19 pandemic were well entertained.
The portal was used to post interesting asides, extra information, speaker profiles, news stories and highlights from social media.
The week of deliberations saw well over 4 000 unique viewers join the EU and South Africa to exchange ideas, experiences, solutions and recommendations.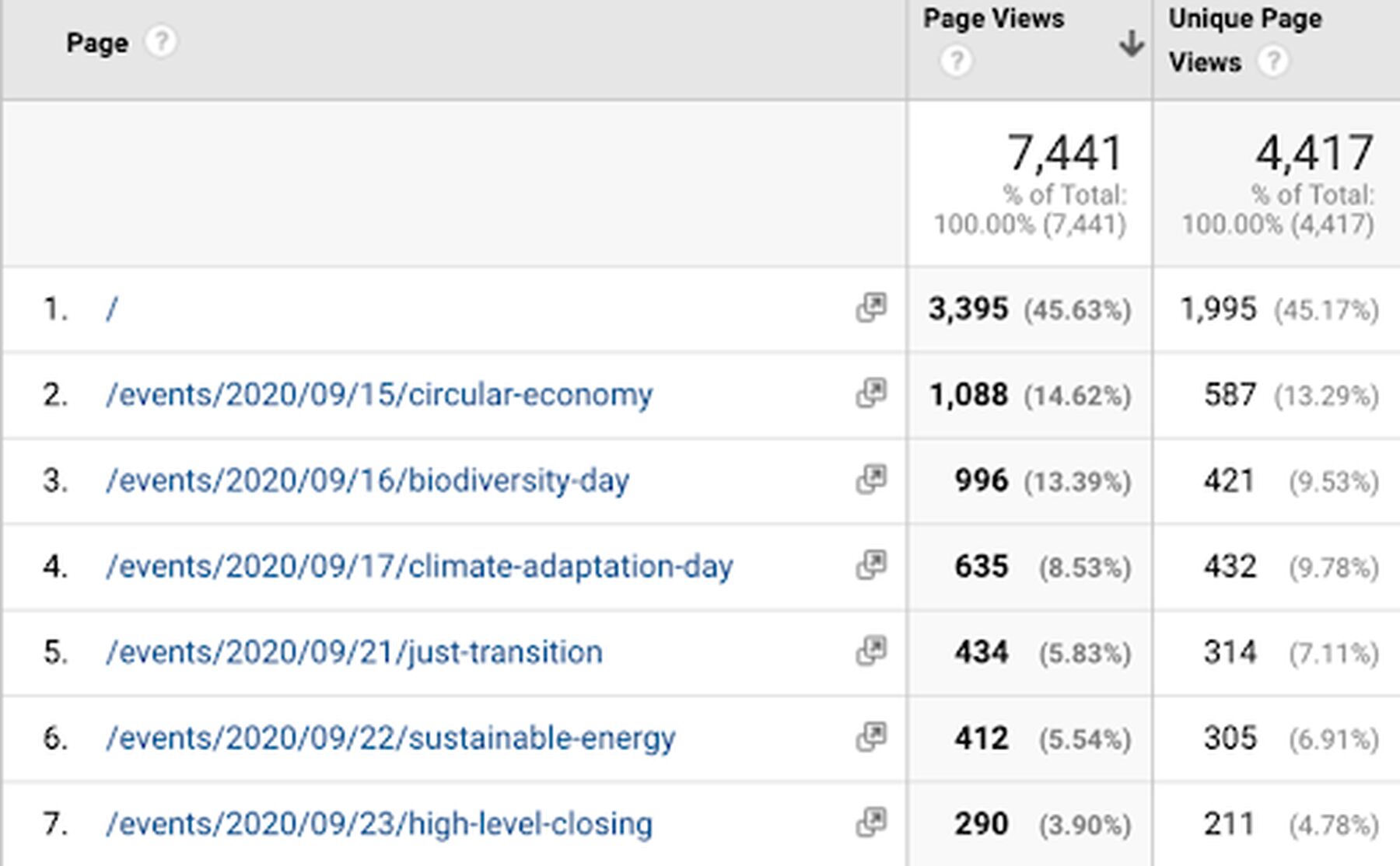 "I loved the high-pressure atmosphere of bringing Climate Diplomacy Week to life," says Richard Frank, head of Flow's digital team. "There were loads of sessions each day, with sometimes dozens of speakers in a day. At one time, we had over 30 presenters in a Zoom room, whose presentations were then streamed live to our webinar platform. The interactions on the platform were great, and included biographies of the speakers and notes on their organisations, as well as the top posts from social media as they happened."
Diana Mawoko, our client liaison at the GIZ, had this to say after the event: "I am extremely grateful to Flow Communications for the excellent service provided in the organisation and roll-out of the successful 2020 Team Europe Climate Diplomacy Week. Given the limited lead time available, they did an amazing job with all the planning, logistics and communication.
"To accommodate the event during Covid-19, a professional virtual platform was designed, which was greatly appreciated by all our participants. My stress was reduced knowing that I had Flow on board. I look forward to working with them further and highly recommend the Flow Communications team to others. Thank you for all the hard work."
Green public relations
To consolidate Climate Diplomacy Week's digital and social media message, our public relations team worked to ensure local media picked up on the conference. We had articles published in mainstream online publications and secured interviews on Kaya FM and Channel Africa – the South African Broadcasting Service's international news channel.