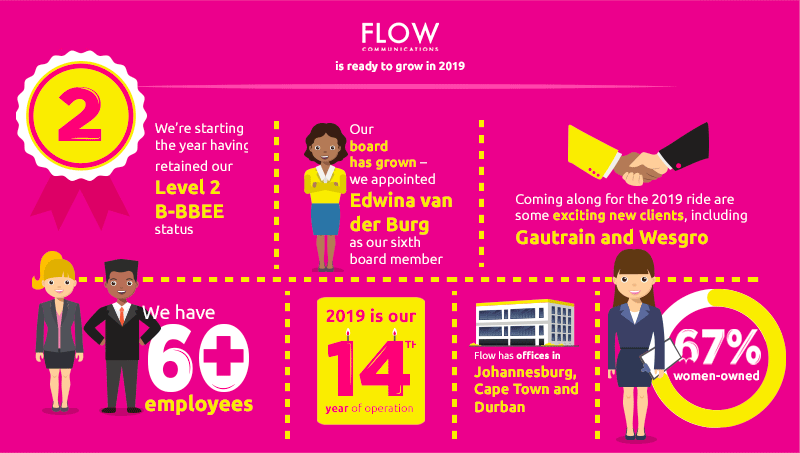 Here at Flow Communications we love new beginnings as much as we love stability and continuity. That's why we're so excited to be beginning this bright new year with some brand-new clients, and having retained our level 2 broad-based black economic empowerment status.
It's hard to believe 2019 is our 14th year of operation, or that we've been lucky enough to keep on board so many wonderful, challenging clients, for so long. Among this group are companies such as Hollard and Sasol, organisations like the Nelson Mandela Foundation, and a long list of Independent Examinations Board schools.
Yes, we've been lucky, but we also believe we've done this by keeping front and centre our mission to partner with our clients to deliver quality and considered communications solutions with passion and energy. We do work we love with people we love. It's nca.
We're especially chuffed to be opening the door on 2019 with a large and energetic staff complement of more than 60 permanent Flowstars, including strategists, designers, programmers, social media whizzes, public relations gurus and crack project managers to ensure our projects are delivered on time, on budget and to the highest quality levels we've become known for.
"We're committed, and we're starting the year on a solid footing," says Flow CEO Tara Turkington. "It's a great position to be in, and we're looking forward to growing in 2019."
Flow is 67% women-owned, and has just two men on its board. This includes our chairman, Bheki Shongwe, who joined Flow as our business partner in 2008. By our calculations, that's a decade on the Flow board. Congratulations, Bheki!
"Tough times never last, but tough people always do," says Bheki. "Flow is one toughie that is looking into the new year, and the next few years to come, with absolute excitement, because the opportunities in front of us are much bigger than the opportunities behind us."
At Flow, we're about solving marketing and communications problems and providing value and quality, while making a difference, forging and maintaining relationships and, always, collaborating – with our clients and with each other so that we best serve our clients.
Talking about new clients, we're excited to get stuck into working with Gautrain in the area of digital marketing, and to join forces with Wesgro to redesign its websites and to come up with a dynamic digital strategy. These are just the kinds of challenge that get our (very) creative juices flowing.
One of Flow's most innovative Flowstars is head of content Edwina van der Burg, who joined us in 2015 and is going into 2019 as the newest member of our board, now made up of six members.
Edwina is the second black woman to serve on the board. "I was very honoured and humbled that they [the board members] had all put this amount of trust in me," she says. "I also see it as a learning opportunity for me. It's a way of operation that's not familiar to me."
Edwina has more than 20 years' experience in the media, cutting her teeth in 1994 with SOUTH as a junior reporter and having spent more than a decade at the Mail & Guardian. In addition to being our board newbie, Edwina is a cat herder … that is, she manages our content team made up primarily of former journalists, and she is a lover of chocolate and pinot noir. That's why we are so mad about her.
Our management team is also one stronger. Last year, we appointed Flowstar Mercy Moyo to the team. Mercy is an accountant with international experience, a warm heart and a tendency to do jigs of joy when the numbers crunch the right way.
All 60-plus of us at Flow are raring to go, ready to march enthusiastically into 2019 full of vim and creativity. We are really, truly excited to have you along for the ride.