With December right around the corner, many of us are finalising our festive-season getaway plans and searching for suitable places to stay on our vacations. For many, hotel websites are the first port of call in travel preparations. Which is why, when top-tier Kenya hotel Medina Palms partnered with Flow Communications on a website development project, we set our sights on designing a truly remarkable product.
Flow has an established working relationship with Medina Palms, having managed its previous website for nearly a decade. For the current project, we joined forces with the hotel's director, Max Cheli, to gather important insights that guided us in enhancing the website's performance.
The new site, which was launched in September 2023, was built on the state-of-the-art CraftCMS content management system, allowing it to be updated easily and ensuring it adapts to any future advancements in web design.
Flow's web development and UX/UI design teams worked to ensure the site provides a seamless user experience and cross-device compatibility, from smartphones to desktops. The new website is also optimised for search engines (SEO-friendly) and offers a virtual tour of the resort's amenities, including the exquisite Amandina restaurant and serene coffee garden, as well as its entertainment bars, stunning swimming pool and luxurious spa.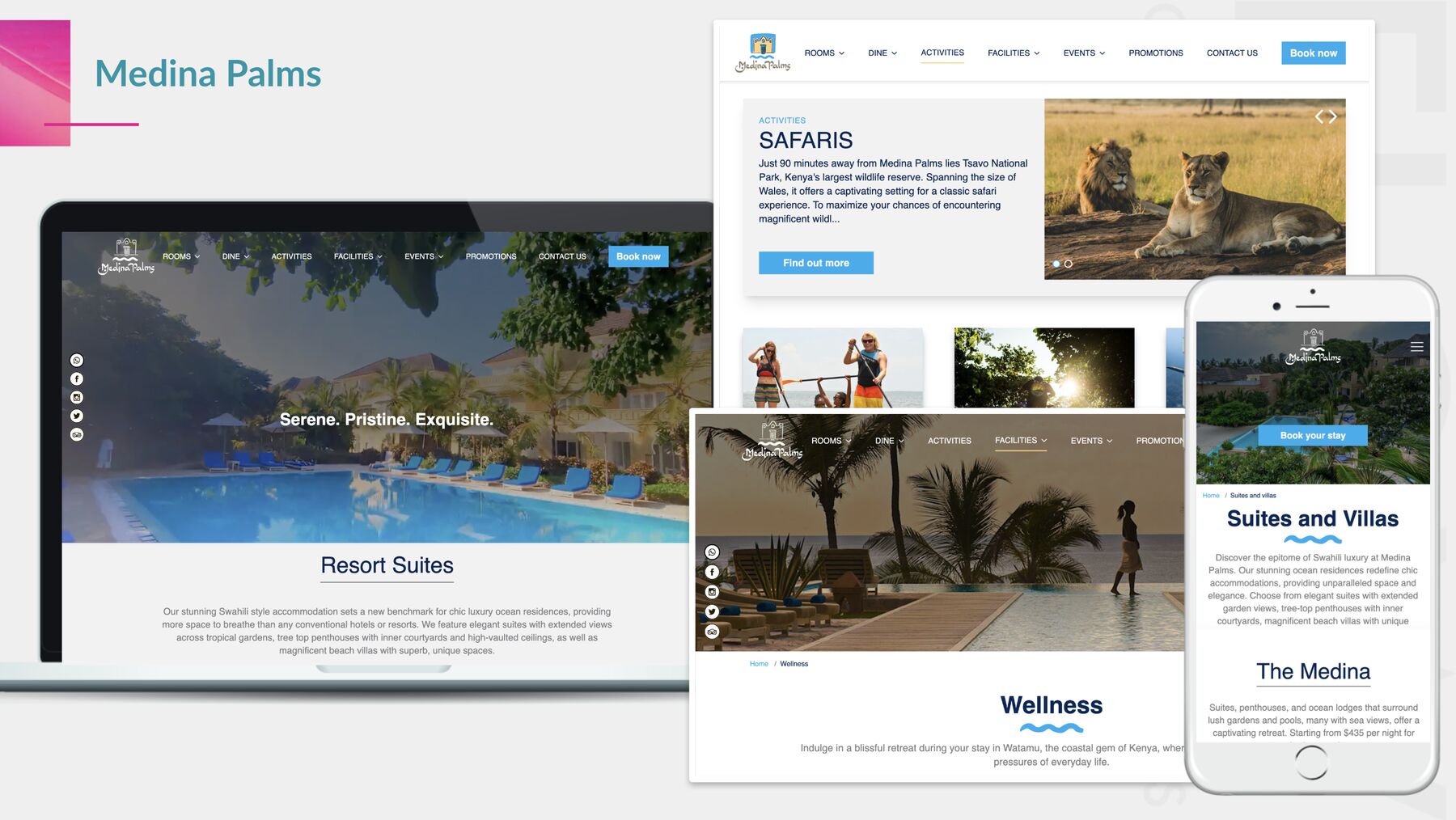 Medina Palms is a premier Swahili-style hotel and resort nestled along the shores of Watamu, Kenya, and renowned in Mombasa and beyond for its outstanding elegance and world-class amenities. The hotel also plays a part in sustainable tourism, partnering with local businesses to offer activities like kayaking, snorkelling, mountain biking and sunset cruising that benefit the surrounding communities.
A key measure of a successful hotel website is a boost in holiday bookings. To achieve this, it was crucial that we highlight the hotel's amenities and facilities. "To this end, we reviewed and improved on the old site's navigation by focusing on user experience. The client wanted to emphasise videos and large, beautiful images to convey a sense of luxury. We also ensured that a 'Book now' call to action is present on every page," says Flow project manager Riefkah Adams, sharing insights into our approach.
Accessibility was another priority: Flow designed the site keeping in mind those with visual impairments, using clear contrasts and tags on images and videos to ensure that everyone can navigate and engage with the content easily.
The client is happy with the end result. "I'm truly impressed with what we've managed to produce after months of working on this project. The new website perfectly captures the essence of Medina Palms, and reflects Kenyan culture while giving people a glimpse of what to expect when they visit us. It's been a wonderful journey, and I couldn't have asked for a better partner to collaborate with on our website's transformation," says Max.