Founded in 1874, Collegiate Girls' High School has a rich history and a long-standing tradition of academic excellence. Flow was entrusted with building the Gqeberha school's new website, skilfully blending this tradition with modernity. By updating the website's design, integrating new features and embracing the school's vision of holistic education, Flow successfully created a platform that reflects Collegiate's prestigious past and embraces its future aspirations.
In the digital age, a well-designed and functional website is essential for educational institutions to communicate and engage with their community effectively. With a focus on updating, modernising and refreshing the design, Flow successfully transformed Collegiate's online presence, enhancing the user experience and introducing new features to meet the needs of learners, parents, staff and the wider community.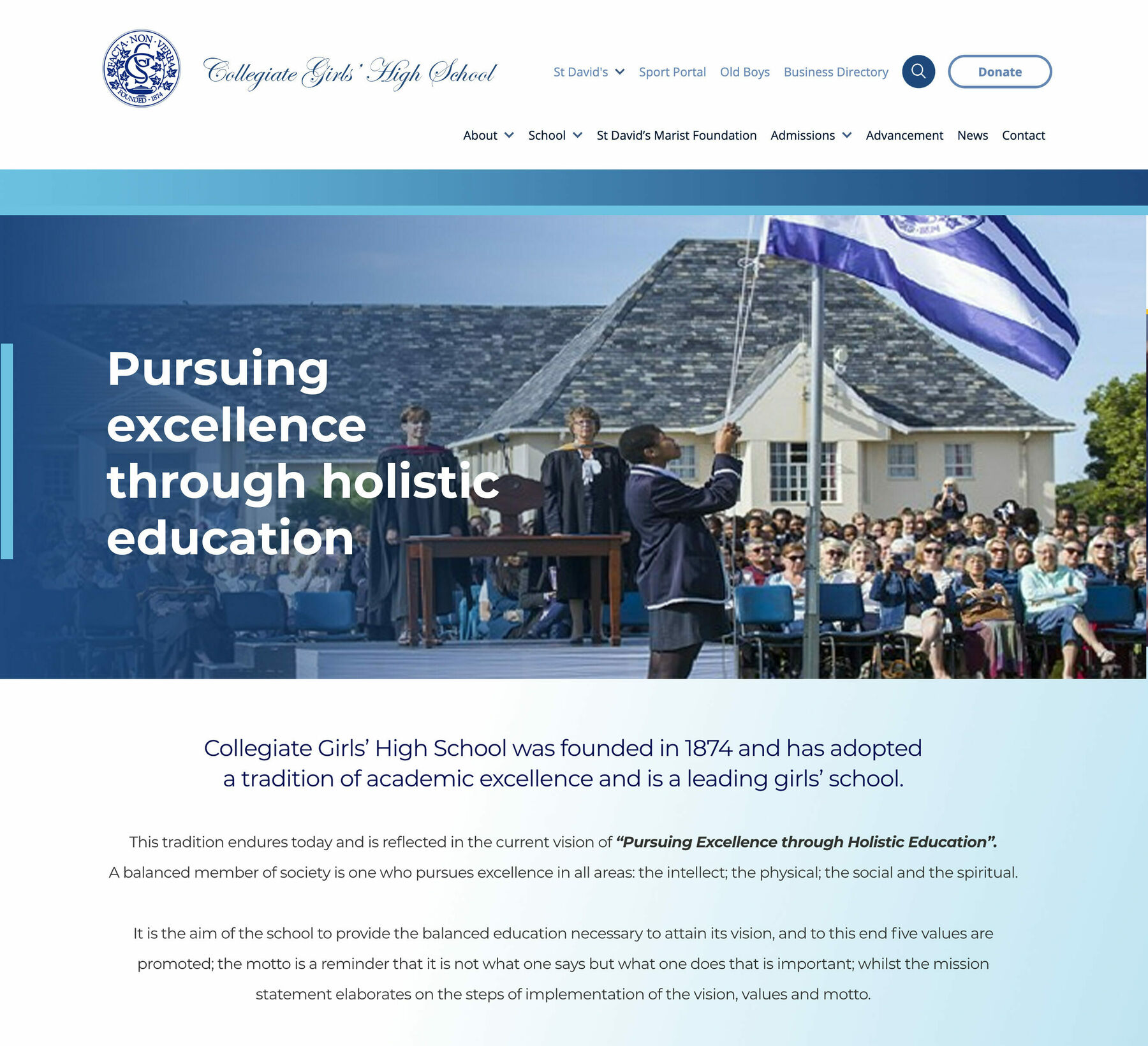 The design elements were carefully curated to reflect the school's values, culture and dedication to academic excellence. The new website boasts a visually appealing interface that captures visitors' attention and leaves a lasting impression.
Flow incorporated an online application form to streamline the application process for prospective learners. This feature allows interested candidates to submit their applications conveniently through the website, saving time and reducing paperwork.
The new website also includes RSVP and payment functionality to facilitate event management and coordination. This addition simplifies the organising of school events, such as fundraisers, parent-teacher meetings and alumnae gatherings, allowing attendees to confirm their attendance and make payments online.
Collegiate has a rich history, and to celebrate its 150-year milestone in 2024, Flow created a dedicated page for coordinating and promoting the festivities. This section highlights special events, milestones and initiatives related to the anniversary, fostering a sense of pride and engagement among the school community.
Understanding the importance of consolidating various online platforms, Flow integrated the school's existing platforms, such as Facebook, Instagram, YouTube and the SOCS platform for sports, into the new website. It allows users to access and navigate these platforms seamlessly, providing a cohesive digital experience for the Collegiate community.
With a modernised appearance, a streamlined application process, improved resource accessibility and the integration of various online platforms, Collegiate Girls' High School now possesses a website that embodies its values and serves as an invaluable resource for all stakeholders.