The Nelson Mandela Annual Lecture is always a highlight of the Flow Communications year, and the 2022 lecture, with its strong climate change message, was no different.
The 2022 lecture was delivered by Barbados Prime Minister Mia Mottley, who had, days before, at the United Nations climate change talks, ruffled feathers with her call to developed nations to make good on their promises to help developing nations tackle climate change. Her topic allowed her to extend her message: Social Bonding and Decolonisation in the Context of the Climate Crisis: Perspectives from the Global South.
As usual, Flow was on hand to support the Nelson Mandela Foundation, one of our longest-standing clients, in its presentation of the lecture. This year's event took place in Durban, for the first time ever. The city was chosen in solidarity with its residents, more than 430 of whom lost their lives in devastating floods in April that scientists linked to climate change's effects on the severity of storms.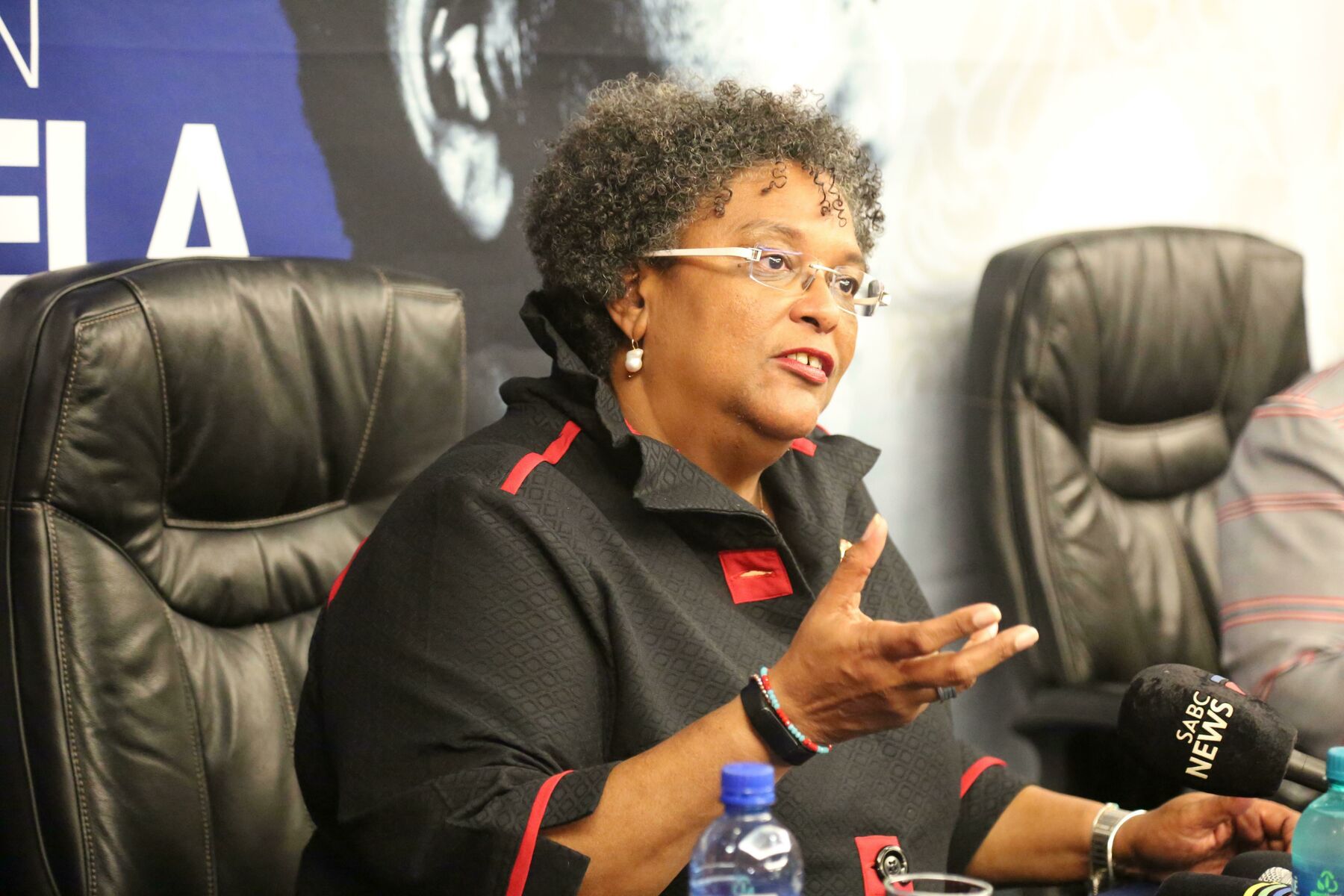 Flow sent a team to Durban, backed up by other Flowstars who worked online from their homes on the day of the lecture, 12 November 2022. Through their combined efforts 15-million people were reached via social media, and the hashtags were mentioned 130 000 times.
"It is always an honour to work with the Nelson Mandela Foundation, which has a team of passionate, driven people who are out to change the world for the better at every opportunity. We have worked on the Nelson Mandela Annual Lecture for more than 12 years, and last year's lecture was one of the most profound, meaningful and inspiring events we have ever been involved in," says Flow managing director Tiffany Turkington-Palmer.
Building awareness, drumming up support
Ahead of the lecture Flow put its public relations experts to work to spread the word. An opinion piece was written on behalf of the foundation's chief executive, Sello Hatang. This sparked a request for interviews on television station SABC2's Morning Live programme and radio station Gagasi FM.
Social media was also used in the run-up to and during the lecture, and the hashtags #NMAL2022, #MandelaLecture, #NMF4Earth and #NelsonMandela were tracked from 7 to 14 November. Over that time 15-million people were reached, the hashtags were mentioned 130 000 times and 420-million impressions were achieved.
These figures far exceeded the goal of reaching three million people that had been set for the event by Flow and the Nelson Mandela Foundation.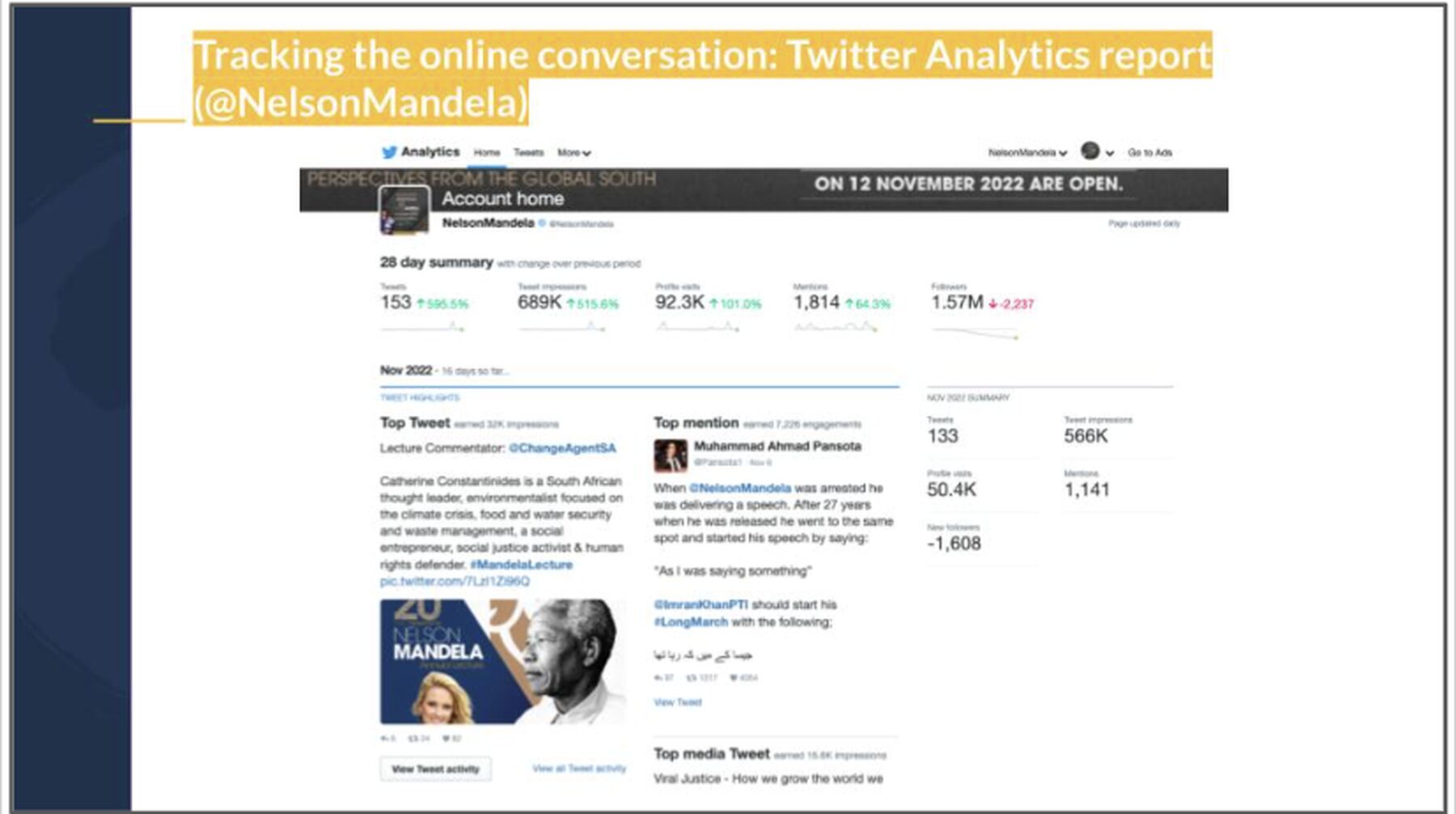 The lecture
On the day of the lecture Flow provided technical and practical support, hosting a live stream on https://events.nelsonmandela.org/, taking photos, live-tweeting proceedings and keeping up to date with community management on social media, updating the website and helping out wherever we could.
The results speak for themselves:

1 123 users visited the NMF's events platform on the day of the lecture – 12 November 2022

1 641 users in total visited the events platform during November

1 500 people streamed the event using the Foundation's YouTube feed

6 600 people streamed the event via the South African Broadcasting Corporation's YouTube feed
"I don't talk about climate change. Change happened a long time ago. Crisis is where we are, and crisis is what we have to fight, and today I want us to recognise that what is required of us is going to have to allow us to develop partnerships in places where we may have never dreamt of so doing before, and to be able to do things in new ways that we have never thought of doing, and that the actions required are not simply those of others but of us, because it is the collective action that has led the world to be where it is today," Mottley said, delivering the lecture.
We at Flow are proud that, through our partnership with the Nelson Mandela Foundation, we ensured that her message reached as many people as possible.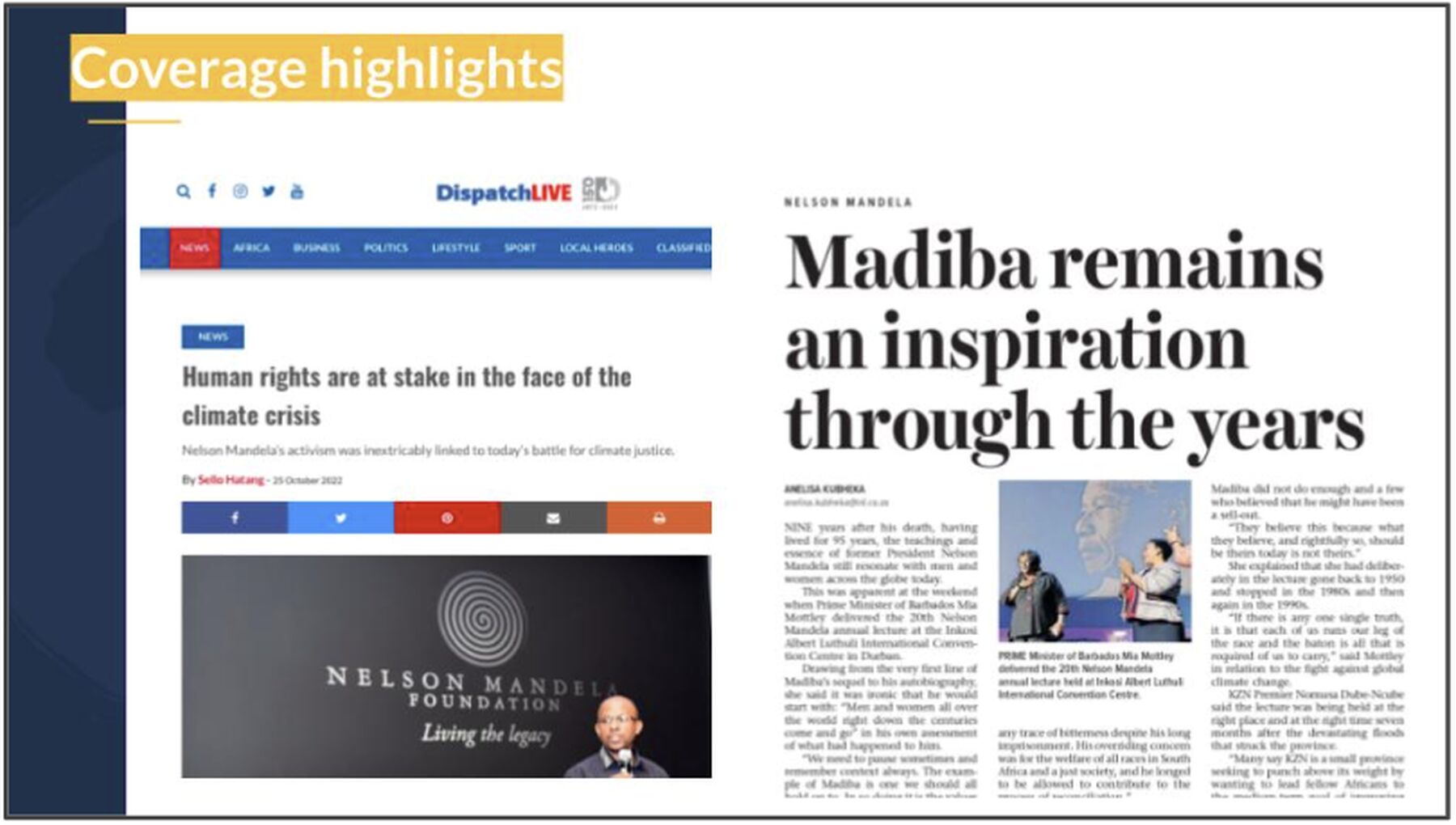 We thrive on ensuring that our clients are happy, and we were thrilled that the foundation was pleased with how well the lecture went off.
"Once again, the Nelson Mandela Foundation was able to pull off an excellent and efficient Nelson Mandela Annual Lecture," says Hatang, the foundation's chief executive. "Flow's public relations services went above and beyond what was asked and astounding results were achieved. We would not have been able to host this event, the first in-person annual lecture since 2019, without this aid."